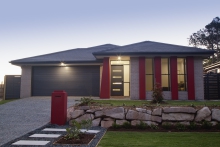 The inevitable may happen at some point. You may have to sell that dream home that you have put so much time and effort (not to mention money) into getting it just right. Your home is much more than just where you hang your hat, as the old saying incorrectly stated. Maybe in the '50s when everyone wore hats, but not today. These days, a home is where you can access your WiFi, binge watch TV shows and eat Chinese takeout, with nary a hat in sight. The purposeful designs of today's homes necessitate a much more comprehensive inspection process than they did many years ago. And at Winding River Inspection Services we decided to explore a bit about what you need to do to get your home ready to sell in this day and age. With home values on the rise, particularly in Northern Colorado, it is critical to put the maximum into getting your home ready to sell.
The Curb Appeal Shot
Nothing can sell a home faster than a well taken care of yard and other outdoor spaces. The initial aspect that needs to be addressed is the first impression, or curb appeal. The curb appeal shot is the first picture that many potential buyers will see when searching for a home online. (Surprise! No matter what your realtor tells you most buyers look online first.) This is why getting the front of the home ready first is critical. Manicured or thoughtfully designed landscaping is a huge selling point, as is a lush green lawn.
The Back Yard
The landscaping in the rear of the home is a major selling point as well but it must be much more functional. But the main focal point of any backyard is generally a patio or other type of outdoor living space. An amazing patio can also add value to your asking price and increase the buyer's interest. Of course if your front or back yard is not anything special or amazing putting money into it will not gain you enough value on the selling price to be worth while. The rule of thumb is, no matter what kind of outdoor space you have, make sure it is clean and presentable—even if it is not a showpiece of a yard.
Shine it Up!
Additionally, one of the best things you can do is apply a fresh coat of paint to the home you are going to sell. Make sure that all of the gutters and the roof are in good shape and not in need of replacement. If a roof is determined to be bad it may come back on the seller to repair the damage. One aspect of selling a home that many people do not pay attention to us the driveway and the outdoor walkways. If in fact, the walkways are damaged or cracked this could potentially be a problem for the sellers. Overall make sure that the outside of your home is clean and presentable. If you need a preliminary inspection, please give us a call for more information. We look forward to hearing from you!