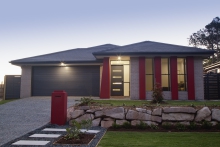 Throwing money into renting a home every month is convenient in the sense that you don't have to worry about home repairs, you don't have a mortgage, and you are mobile if you decide to pack up and move. However, most people reach a point in their lives when they are sick of renting and ready to pick out a house of their own. Buying a home can be difficult, but it is definitely a beneficial investment that will bring you joy and be a place to make memories for years to come. Let's take a look at a few steps that you can take to find out if you are qualified to purchase your own home.
Check Your Credit Score
First thing is first, you need to find out what your credit score is. Your credit score will determine how much you are approved for when purchasing a house and it will also affect the interest rate that you will be charged on the amount of the loan. If your credit score is on the low end, it may be a good idea to take a couple of years to build up your credit before taking out a loan. This will end up saving you thousands of dollars in the long run.
Get Pre-Approved
Once you have decided that you are absolutely ready to buy a home, it is a smart idea to get pre-approved. Being pre-approved will give you an advantage over those who are not. This means that when you find the perfect home in your price range that you will have the option of putting in an offer immediately instead of waiting on approval. Getting pre-approved also gives you a more realistic idea of what you can afford to spend on an home without stretching your finances too thin.
If you are planning on purchasing a home in the near future, be sure that any home that you are seriously thinking of purchasing is inspected by a licensed home inspector, so that there are no surprise expenses  hidden in your new home. Winding River Home Inspection of Fort Collins and Loveland is your Top Rated Local® licensed home inspector. Call us today to schedule your inspection!