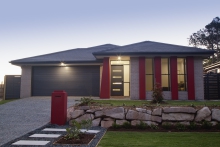 Are you getting ready to make an offer on a home that you have fallen in love with here in the beautiful Loveland area? If so, you need to know how important it is to use one of our licensed home inspectors to give you the hidden information about your home that can't be seen at first glance. If you've been following our blog series, then you already know that we started off by giving you a few red flags such as live-in pests like termites, and drainage issues. Here are more red flags that you need to take seriously if you want to live happily ever after in your Northern Colorado home.
Pervasive Mold- If our licensed home inspector finds mold throughout the home that you want to buy, we suggest thinking twice. Not only is this a sure sign of long term moisture control issues, but mold can lead to health issues that can be avoided.

Faulty Foundation- The foundation is the backbone of your home. If the foundation in the basement is cracked or crumbling, it needs to be repaired, which can be a costly procedure. You will most likely run into faulty foundations in older homes, so be aware that their old-fashioned beauty may be hiding something that you should avoid.

Worn Out Roof- The inside isn't everything that matters. The roof shouldn't be ignored, especially if the shingles are falling off or loose. Replacing roofs is not cheap, so think long and hard if this is a home you don't want to pass up.
Though the previous and above stated red flags are very important to not ignore in our professional opinion, they don't mean that you can't purchase the home. Be sure that you are making the right moves with the buyers and creating negotiations that make the home that you love worth buying. Contact our home inspectors online now and get the advice that you need.